The eco-houses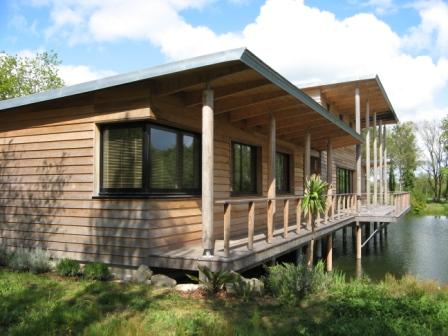 The eco-habitat spreads into France from England, where is situated the eco-district BEDZED ".
The city of GRANDE-SYNTHE in the North of FRANCE bring houses in kit zero carbon manufactured under the aegis of the British ZED, who designed the famous london neighbourhood BEDZED.
According to the magazine "MONITOR" here is a summary of the principles of these eco-houses in which the show home is under construction :
▪ North-south Orientation rather than east-west to maximize solar intake.
▪ Surisolation.
▪ House surrounded by a breathable membrane.
▪ Installation of concrete eco-friendly high capacity for heat absorption. Ceiling in terracotta.
▪ Natural stone floor.
▪ 25 m2 of photovoltaic panels for the reintroduction of the surplus of electricity in the EDF network in order to obtain an electricity bill of zero.
▪ High window to bring in natural light and heat gain optimum.
▪ Store retractable to protect from the sun's rays and avoid overheating.
▪ Natural Ventilation heat recovery with the installation of the famous "wind cowl" used at BEDZED, the hot air warms the incoming fresh air.
▪ Solar water heater and pellet boiler.
▪ No radiator in the house.
▪ Has the interior lighting to low power devices efficient household.
▪ Vent valves to avoid loss of water, a dual-flush water for the TOILET.
▪ Treatment of the garden with the principles of biodiversity : gasoline regional, wooden terrace, bins, vegetable gardens,
▪ Materials recovery from iron and steel mills nearby and re-use of crushed stone stemming from the work of the highway A 25 to the parking spaces.
▪ The house called RURAL Z is designed for 5 generations or 125 years old, built in 6 weeks in a subdivision with a high density to avoid urban sprawl and forcing more travel, a space that is vegetated with water-courses not and a public lighting economic in addition to public transport close.
▪ The idea is to build a home kit zero carbon.
In the afternoon, the company VILLAS LA PROVENCALE comes to be the subject of a certification by the company ROCKWOOL specialist insulating materials.
It is about creating a home with positive energy to PELISSANNE (13).
3 other homes are winners of the contest located in the Oise, Val d'oise and the Yvelines.
The house costs 550.000 € to 148 m2 270.000 € out of T1 and off-photovoltaic.
Other houses are in course of construction, normally with the label PASSIVHAUS that is given out of a need for heating lower than 15 KWH/m2/year and need less than 50 KWH/m2/year of final energy.
The Firm KARAWITZ architecture have just built a house of this kind in BESSANCOURT (95). For a living area of 161 m2 is the budget of 1.800 € per m2.
For those who handle the English language,the below video presentation the eco-district BEDZED in the suburbs of London:
http://www.youtube.com/watch?v=TFrqRJbCmIQ
Translated by Yandex.Translate and Global Translator
You should also love